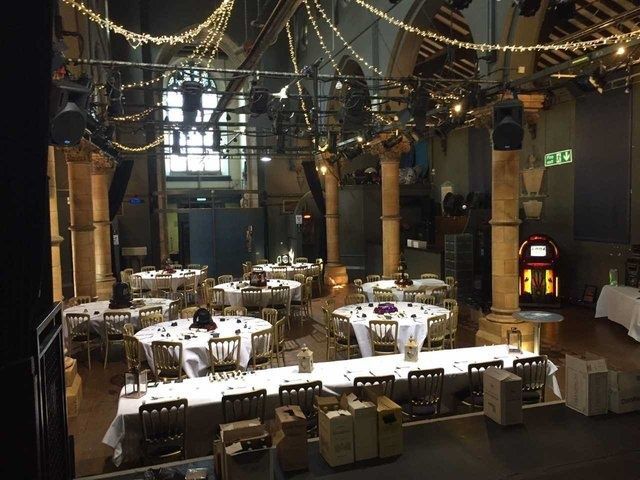 The arts centre is available for hire for gigs to wedding receptions to rehearsal space.
The information below is a guide. If you would like to discuss specific requirements and availability please email Stafford Glover, Executive Producer on stafford@colchesterartscentre.com or 01206 500900.
You are welcome to come in and view the space Monday to Saturday 10am - 2pm. Please note that due to the busy nature of our venue viewing may not always be possible. Please email mick@colchesterartscentre.com or call 01206 500900 to book a date and time.
Hire prices are for hires in 2024. The prices have been reviewed and increased due to the rising costs of running a venue and due to the increased demand for access to the venue. For hire prices for 2025 please contact stafford@colchesterartscentre.com
CAPACITIES
We have one main space which can be adapted with the use of black drapes to create more intimate atmospheres, if required.
For performances below is a list of our standard options:
400 Standing: band/ performer on stage, audience all standing.
240 Seated: static solo performer on reduced stage, seating in central area and on the sides.
220 Seated: band/ performer on stage, seating in central area and on the sides.
80 Rake Seating.
We do not charge commission on merchandise sales.
For weddings and parties, we can discuss different set ups to suit your needs. Our space and seating is flexible and we are happy to discuss the best fit for you.
FAQs
Do you offer a discounted rate for charities?
As we're a charity ourselves, we generally do not offer a reduced rate.

I have my own sound engineer so I don't need to hire yours. Can I have a discount?
You are of course welcome to bring your own sound engineer - but you'll still need to have ours there as they are responsible for ensuring the safe running and powering up and down of the system.
Can we bring in our own alcohol?
Yes, for wedding receptions and other private functions. Corkage charges apply. £1 per bottle, £15 per keg.
Why don't you have any of the available dates I want?
We are busier than ever and bookings are generally 12 months in advance, and Fridays and Saturdays are scarce! We always do our best to fit people in - but the earlier you contact us the better!